Filter Reviews
Results
Improvement
Feel
Limping
Inflammation
Pills
Issues
Ingredients
Leg
Movement
Difference
Dog
...
Effect
Work
Capsules
Medicine
Vet
Change
Results
Improvement
Feel
...
Limping
Inflammation
Pills
5.0 star rating

4.0 star rating

3.0 star rating

2.0 star rating

1.0 star rating
Stephanie M.
5.0 star rating
Helps with injuries
Review by Stephanie M. on 18 Sep 2020
review stating Helps with injuries
This product has helped a lot and we see results fast, He is older and was fine until he decided he was part superhero and launched himself off the top of the couch while playing with a toy. He hurt his back leg and this along with massage and rehab exercises has helped a ton. I also see a difference with his skin when we use it twice a day.
I decided to try this
Review by Janet M. on 13 Sep 2020
review stating I decided to try this
I decided to try this as our dog's vet recommended she start carprofen due to her disc issue and arthritis. She is 11 years old. I actually gave her the carprofen for about 1 week but she became so lethargic and wasn't her happy self that I took her off it and started looking for something more natural. I needed something that would help with the inflammation the disc issue and the arthritis causes her. I give her 3 with her breakfast and 3 with her dinner and I can't tell you how much it has helped her. She is able to run again and doesn't wake up so stiff in the morning and the best part is she is her happy self again. I have actually recommended this product to others because the results have been amazing for my dog. I was hoping for something that would help her alittle bit but this product has gone way beyond what I had hoped for. I have been giving her this product for about 2 months now and I am still seeing the great results that I saw when I first started giving it to her.
Christina L.
5.0 star rating
Inflapotion
Review by Christina L. on 11 Sep 2020
review stating Inflapotion
I purchased this to try instead of the harmful pharmaceutical that my vet had prescribed. It is working wonderfully! The only small problem is that she didn't like the smell or taste. However, I purchased some peanut butter flavored pill pockets to hide them in, and that did the trick. Thank you for providing a safe alternative to the Big Pharma drugs out there 💗💗💗👍🏻
Give it more time
Review by Cindy F. on 6 Sep 2020
review stating Give it more time
I've been using it with my dog for over a month. He seemed to do better with mobility but I don't really know it's this product or others I'm using along with it since I'm giving him a lot of different things.
Inflapotion
Review by Lisa V. on 28 Aug 2020
review stating Inflapotion
My Newfie has been on this for 2 months now and I see good improvement! He broke his leg last year and had a plate and screws put in but limped a lot and wasn't doing a lot of movement. Now he runs with his brother and plays all the time and is much more active!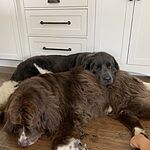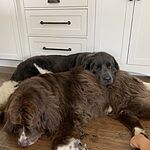 Q: Why do you have to break? Why can't you give it consistently? What would be the down side of that?
A: Hi there, those are the instructions from the manufacture for the product. If you have more questions about that I would get in contact with them. Here is a link to the site,
glacierpeakholistics.com
.
Q: I was wondering if Lori had a follow up to Review i.e. did it help the pain/inflammation from the torn ACL? thanks

Lori Haskett
10/09/17
Inflapotion
My Corgi has a torn ACL and I ordered this to help get him off prescription pain meds! I feel so much better giving him this product! So looking forward to this helping him to heal!
A: Hi David, unfortunately I can find that information for you. You can always contact us at
info@dogsnaturallymagazine.com
and we will be happy to answer any questions you have!
Q: I have a 13 year old Dalmatian/Lab mix who is currently on tramadol and rymadil for a torn ACL and Arthritis in her lower back. I would love to take her off both of these medications if this product or another works for her. Is that possible to just do? Can you just stop the tramadol/Rymadil? Or do you have to wean your dog off of them? I don't want to ask the Vet what to do because I'm sure they'll just advise against it altogether. If anyone has experience or knowledge about this, I'd be so grateful to hear your thoughts!
Thank you!
A: Your vet can advise, you're under no obligation to follow that advice. We're not vets here so can't give you that info but many holistic vets will do telephone consults so they don't need to be local, I'll post a link that can help you find one.
ahvma.org
Q: So I have a dog that's about almost 10 pounds and I all ready bought these dose this mean that they will be to much for her??? can I just give her half of a pill or should I just give her one full one she's only three years old and has been having problems with Lextation patella and I need something !?!
A: Hey Zoey! You can open a single capsule and use half in the morning and half in the evening.
Q: What are the ingredients in this product?
A: Hi Micki!
The Inflapotion is a proprietary herbal blend that consists of Althaea officinalis (Marshmallow Root), Arthrospira platensis (Spirulina), Echinacea Purpurea (Purple Coneflower), Silybum marianum (Milk Thistle), Symphytum officinale (Comfrey Leaf), Trifolium pratense (Red Clover), Ulmus rubra (Slippery Elm).