Filter Reviews
Results
Side Effects
Limping
Issues
Leg
Vet
Movement
Dog
Difference
Work
Change
Pills
...
Medicine
Capsules
Inflammation
Results
Side Effects
Limping
...
5 star rating

4 star rating

3 star rating

2 star rating

1 star rating
Inflapotion, good stuff
Review by Tracy M. on 27 Aug 2019
review stating Inflapotion, good stuff
I have not used this by itself but in conjunction with the JuvenateK9 so I can really comment on how it works by itself. My 15 yo Scottie is doing very well on this combo. She has an old injury that affects her spine,hip and stifle. As she aged it slowed her down alot and I believe was getting painful to do anything other than what was necessary. I put her on the Juvenate about 6 weeks ago and observed an improvement, better movement but most impressively better mental state, she was happier. Added the Inplapotion about 2 weeks ago and waaaay better movement within a couple of days. She used to just stand or lay down, now she is comfortable sitting and that's great cause she loves her stroller. I am feeding Answers so I take the capsules apart and add them to the goats milk so it's mixed in on top of her meat and she gets a broth chaser. She's doing very well on this combo and we are on the maintenance plan with it. I am usually one that tries something at least 60 days, preferably 90 days before I will comment on it, but this product worked quickly with great results. Thank you Dogs Naturally Market! Appreciate it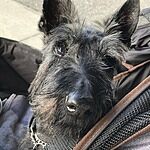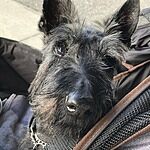 Helped my dog recover!
Review by Kendra S. on 31 Jan 2018
review stating Helped my dog recover!
My dog got into a scuffle with another and had to get stitches in several places. I used inflapotion to speed up her recovery and was able to get her off the vet prescribed pain killers, anti inflammation and antibiotic pills. I used this along with herbaprin and CBD oil. The combo worked great!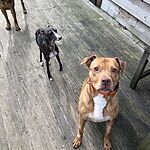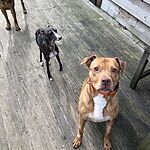 Miracle
Review by Farrah W. on 1 Sep 2017
review stating Miracle
I started giving my 16 year old black lab this product and it was like night and day! I really thought he was on his way out. I refuse to give him prescription pills at his age, so I started looking for a natural remedy. SO glad I found your website! I will be ordering more!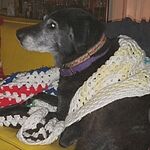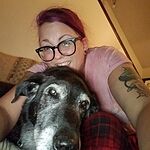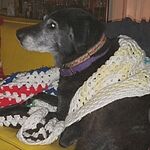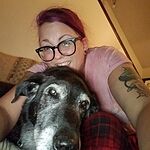 Inflapotion
Review by Pam O. on 13 Feb 2020
review stating Inflapotion
I used this to help my labradoodle who had sprained his foot or injured in some way ( front foot). Amazing. It helped clear him up very quickly. Yes I would buy it again.
Comments by Store Owner on Review by Pam O. on 13 Feb 2020
Hey Pam! Thanks so much for your review! : )
Provides Comfort
Review by Jean B. on 2 Feb 2020
review stating Provides Comfort
My big dog, Bochy, has had two TPLO surgeries. Sometimes he gets a bit still and appears to be a bit uncomfortable. The Inflapotion tablets seem to ease his discomfort and make getting up and down a bit easier.
Comments by Store Owner on Review by Jean B. on 2 Feb 2020
Hi Jean!
Thanks for sharing your review with us!

Happy to hear that Bochy is comfortable and at ease!
Q: Why do you have to break? Why can't you give it consistently? What would be the down side of that?
A: Hi there, those are the instructions from the manufacture for the product. If you have more questions about that I would get in contact with them. Here is a link to the site,
glacierpeakholistics.com
.
Q: I was wondering if Lori had a follow up to Review i.e. did it help the pain/inflammation from the torn ACL? thanks

Lori Haskett
10/09/17
Inflapotion
My Corgi has a torn ACL and I ordered this to help get him off prescription pain meds! I feel so much better giving him this product! So looking forward to this helping him to heal!
A: Hi David, unfortunately I can find that information for you. You can always contact us at
info@dogsnaturallymagazine.com
and we will be happy to answer any questions you have!
Q: I have a 13 year old Dalmatian/Lab mix who is currently on tramadol and rymadil for a torn ACL and Arthritis in her lower back. I would love to take her off both of these medications if this product or another works for her. Is that possible to just do? Can you just stop the tramadol/Rymadil? Or do you have to wean your dog off of them? I don't want to ask the Vet what to do because I'm sure they'll just advise against it altogether. If anyone has experience or knowledge about this, I'd be so grateful to hear your thoughts!
Thank you!
A: Your vet can advise, you're under no obligation to follow that advice. We're not vets here so can't give you that info but many holistic vets will do telephone consults so they don't need to be local, I'll post a link that can help you find one.
ahvma.org
Q: So I have a dog that's about almost 10 pounds and I all ready bought these dose this mean that they will be to much for her??? can I just give her half of a pill or should I just give her one full one she's only three years old and has been having problems with Lextation patella and I need something !?!
A: Hey Zoey! You can open a single capsule and use half in the morning and half in the evening.
Q: What are the ingredients in this product?
A: Hi Micki!
The Inflapotion is a proprietary herbal blend that consists of Althaea officinalis (Marshmallow Root), Arthrospira platensis (Spirulina), Echinacea Purpurea (Purple Coneflower), Silybum marianum (Milk Thistle), Symphytum officinale (Comfrey Leaf), Trifolium pratense (Red Clover), Ulmus rubra (Slippery Elm).