Filter Reviews
Improvement
Customer Service
Issues
Dog
Energy
Supplement
Improvement
Customer Service
Issues
...
5 star rating

4 star rating

3 star rating

2 star rating

1 star rating
Works very well
Review by Mary C. on 9 Oct 2019
I add this along with bone broth and my dog can run again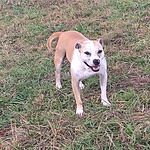 Hi Mary!
Thanks for sharing your awesome review with us!

Adding Juvenate K9 to bone broth is a smart way to ensure that your dog is consuming it all!

All the best to you and your cutie! :)
Juvenate K9 and my old girl
Review by Tracy M. on 27 Aug 2019
I have been using this for about 2mo ths now. I got it for a 15yo Scottie that has an old injury. She was jumped by a large Lab about 3 years ago injuring her spine, hip and stifle. After about a week I started noticing she was more attentive and moving a bit better. The biggest improvement was mental though. She's an old gal so hearing and sight is compromised but she was back doing some of the things she did before, she's definitely was more comfortable. I also read up on the Inflapotion and after the first month added that to this and the combination is working very well. She used to either stand or ease herself down to the floor but now she is comfortable enough to sit. She loves her stroller rides in the morning and we can stay out a bit longer because she's more comfortable. This is working well for us, thank you!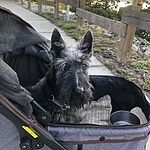 So far so good.
Review by Adrian R. on 27 Jan 2018
It's only been about a week since I received my jar of Juvenate, but it seems to be working on my 13+ little girl! She was doing half jumps a week's earlier but now seems to be okay with doing full jumps. She still has a little bit of an ache when she goes to lay down but her groan are almost nonexistent. Thank you DNM!
Great product!
Review by Paula H. on 5 Nov 2019
Juvenate K9 has made a big difference for our dog. He has arthritis and sometimes has a bit of trouble getting around. We have been using this for 2 weeks now and I do see significant improvement. He does not struggle quite as much. I do feel that this product really helped!
Juvenate K9 Joint care
Review by Carol P. on 28 Oct 2019
I have a 13yr old Golden Retriever , who has multiple joint issues. He is already on meds from our Vet. I was looking for a safe alternative to help him get more relief . The Juvenate has made him more comfortable and mobile. Very Happy with the results!
Q: I am looking for a natural product for my 12 year old Beagle with chronic inflammation (arthritis); recently diagnosed via MRI, CT scan, spinal tap, fluid draws from R elbow and R knee. Dietary changes made from pork (Omega 6 too high!) to rabbit (raw diet). Adequan injections commenced recently, but vet wants glucosamine supplementation. Dog is allergic to chondroitin; also allergic to salmon, hemp and some other food sensitivities. Can you help us, as cartilage regeneration is what we are looking to achieve and lessen the pain of this condition. Very healthy otherwise.
A: Hi Linda!
Juvenate contains Crominex which can help support healthy joints, normal glucose absorption, healthy fat levels and is geared towards senior dogs! This product is completely natural and can even reduce pain!
Q: Is it too much to give Juvenate, Asta Zak and Turmeric to my dog every day? And if you were giving your dog one from the two products, which would you start with first?
A: Hi Emma!
It is perfectly OK to give Asta Zan along with Juvenate as part of your dog's daily regimen! You can start with one product for a few days and then gradually incorporate the other. Since Asta Zan contains turmeric it is not necessary to add additional turmeric to your dog's diet.
Q: Thank you for the answer to my question on Juvenate. My lab has never had a weight issue. She does seem to be losing some weight since being on Juvenate. Does it affect her metabolism? Also the only oil she gets is coconut oil. Since switching from fish oil to phytosynergy i'm Wondering if she is getting enough fats in her diet.
A: Hello, It could be possible that she is loosing weight because she is more active? But it's always a great idea to have a look at her current nutritional intake as well to check that she doesn't have any new health changes that have come up.
Q: Is Juvenate safe for a 13 year old lab who underwent pericardial window surgery in mid March due to pericardial effusion. As is common for PE Hemangiosarcoma was not found so they say it was idiopathic. She has been on Juvenate for a month and it's helped her chronic elbows and overall demeanor. When I research Indian gooseberry is says use carefully with bleeding disorders? Is this a risky supplement for her? She is raw fed all her life and on phytosynergy and turkey tail.
A: Hi Marty!
BioStar's Juvenate K9 is especially beneficial for older dogs, and dogs who may be less limber and active due to joint issues. It supports healthy circulation, which is important for the delivery of nutrients throughout the body, and can be an important supplement for overweight dogs, supporting healthy blood glucose and a healthy lipid profile. There are no cautions or warnings according to the manufacturer. It is best to keep a close eye on it but it should be fine.
Q: Please elaborate. I'm not clear with the answer given for this previous question: "Does this contain Chromium? When I google Crominex, it shows products with Chromium in them. This website is showing it only contains Indian Gooseberry and Shilajit along with dessicated beef liver. But Crominex 3+ shows trivalent chromium in addition to Indian Gooseberry and Shilajit and chromium is the ingredient from which the name of the supplement is derived! So why is chromium not listed as an ingredient in your explanation of what Crominex 3+ is? Very fishy. Why are you trying to hide the fact it contains chromium?"
A: Hi Maria, Trivalent chromium is an essential trace mineral. If we left it out of the product description, we're sorry. We're not trying to leave it out ... we're leaving out a really important ingredient! You might be thinking of the harmful hexavalent chromium, which is definitely not in this product.