Filter Reviews
Results
Shipping
Improvement
Anxiety
Customer Service
Quality
Cancer
Allergies
Dose
Seizures
Pain
Issues
...
Dog
Back
Puppy
Breed
Oil
Health
Taste
Meals
Energy
Sleep
Rest
Effect
Results
Shipping
Improvement
...
Anxiety
Customer Service
Quality
5.0 star rating

4.0 star rating

3.0 star rating

2.0 star rating

1.0 star rating
Good Product
Review by Peggy K. on 9 Sep 2020
review stating Good Product
My dog just loves her CBD. I give her a dose in the morning and one in the evening, she looks forward to it everyday. She seems to be able to jump on the couch easier, will continue giving this to her!
Four Leaf Rover CBD oil has helped
Review by Linda L. on 9 Sep 2020
review stating Four Leaf Rover CBD oil has helped
Our 14 year old border collie mix has been on Four Leaf Rover Full Spectrum CBD pill for a little over a month and she is doing so well. She is still showing signs of sounds from arthritis but moves so much easier and is back to her old self, talking a mile a minute and running along the fence line playing with her friends. It is a joy to see how much she is improved since we put her on this product. We hope it continues to give her a new lease on life for a long time.
Jennell D.
4.0 star rating
A little more pep in my dogs' steps!
Review by Jennell D. on 9 Sep 2020
review stating A little more pep in my dogs' steps!
Slight improvement in my senior dogs' activity level. I'll continue to use product.
Meagan S.
5.0 star rating
Great for Dog Based Reactivity
Review by Meagan S. on 6 Sep 2020
review stating Great for Dog Based Reactivity
While not a solution, the CBD oil helps our Great Dane be less reactive when she sees other dogs pass our house and when she passes them on walks. Even though she still has her moments, I find she can focus her attention better on me rather than the other dog.
She is nearing 6-years-old, so I also give this to her to help with any aches and pains she might feel. Looking forward to continual use, even though the price tag is high for a giant breed dog.
A++ Potent Stuff
Review by Casey P. on 4 Sep 2020
review stating A++ Potent Stuff
This is really strong stuff. Good stuff!
My dog is about 16 lbs and 1/4 of a dropper seems to be a perfect amount. It helps her relax and take down her inflammation. I usually see it working within 15-20 mins.
She has diabetes, chronic yeast issues, and anxiety. This works wonders. I give her a small dose after long walks, meal times, and/or before bed.
Now if only I can find this quality product to help me do the same!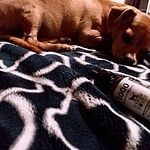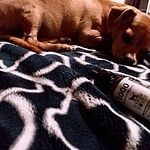 Q: What percentage of this (SOURCE ORGANIC CBD OIL - 200 MG) is organic hemp oil?
A: The product is 27% CBD, which is the active ingredient from the hemp. This is the most commonly used measurement. Hope this helps!
Q: Is this product good for human use also? It seems all other cbd oil products iv viewed are way too expensive. This seems quite affordable!!
A: The CBD oil is safe for humans but there is a specific strength for dogs in our product. If you want CBD oil specifically for humans the same company sells that as well with a lower strength.
Q: I am looking into starting my 10-month old rottie on this for a partially torn ACL that she just re-injured but I am scared of side effects, giving her too much or making her sick on it. Any advice?
A: Hi Carrie, it depends how much your dog weighs. If your dog is under 20lbs you Mix 1/2 dropper 1-2 times daily with food as needed. Dogs weighing up to 60lbs Mix 1 dropper 1-2 times daily with food as needed. I hope this helps :)
Q: About how long does it take to work? I have an 8 yr.old Bernese Mt. dog and he's been a lot slower getting up. Thinking this might help.. ?
A: Hi there, all dogs are different so the time period for the product to start working depends on your dog. We have been getting great reviews for this product! If you have anymore questions don't hesitate to contact us back :)
Q: 13.5 yo German Shepard can not really use her back end Any longer. We think she is in pain sometimes. Mostly at night. She tries to move around and it is difficult. We spend a lot of money at the vet and now she is on tramodal. She just goes to rite bathroom whenever she wants and luckily it is easy to clean up. When she has to pee, she will make noises and we take her out. But we just noticed in the past few days, her urine is cloudy and smells. I mean it smells bad. Really bad. We are thinking of taking her off the meds and trying this. It's so hard at night because she sleeps in our bedroom and this seems to be the worst time. We don't want miracles, but we feel awful because now we've put her in the garage so we can get some rest. Do you think your product would help more than the meds?
A: Hi Alice, I am sorry to hear about your dog! I can't see your whole question unfortunately but I would recommend the 500mg bottle of CBD oil to help!